Circle Time Activities and Books for The First Week Of Preschool
Last week I had an opportunity to meet to many GREAT SLPs who work in preschool settings who asked me if I had circle Time Activities and Books for The First Week Of Preschool ideas to use for circle time. I can't start that one until the current one is out of final edits! So until then, here's a reminder of what I've already published here on the website way back in 2008. Making it through circle time at preschool or daycare is often a challenge for toddlers with developmental delays.
Here are hints for teachers, therapists, and parents who are looking for ways to make young children more successful during this schedule standard. Too often I go into toddler classrooms to work with a child who is language-delayed and having difficulty participating in the circle time routine, and I cringe at what the teacher is trying to pass off as an activity interesting enough to hold the attention of 10 two-year-olds. If 8 of the 10 children are not able to participate and pay attention, you're doing the wrong kind of activity! Naming flashcards, reciting the alphabet, days of the week, or months of the year, and saying the Pledge are NOT appropriate for this age group!
Plante 1998
What activities are developmentally-appropriate for younger children? Hokey-Pokey, London Bridge, If You're Happy and You Know? Sing the same songs for a week or two to build familiarity, then move on to new ones to match your theme. VERY SHORT stories from books with lots of pictures related to your theme read with LOTS of enthusiasm.
By short, I mean 2 minutes tops! This is sooooo important for children with language delays who may not understand all of the words, but can follow the plot pretty well if you're giving them other visual and verbal cues to help them. Include only activities that the children obviously enjoy. If you're losin' 'em, lose the activity! Build routines into circle time such as singing the same opening or closing song so that children know what to expect.
My favorite opening circle time song for toddlers is? This has been a big hit with every class I've ever introduced it to from about 15 months all the way through 3 year olds. It also helps children learn their friends' names. In the beginning of the year, circle time may need to only be 5 minutes long and then expand to no more than 10 minutes for 2 year olds and 15 minutes for 3 year olds. Because you may lose the attention of even the best-behaved and brightest young children after this amount of time. Very compliant children may still remain seated longer than this, but if they're not actively participating and learning during this time, why bother?
Scheduling circle time AFTER a gross motor activity. So many preschools schedule circle time for the very first activity of the day. This is GREAT IF your children have been given the opportunity to run, jump, kick, catch, throw, and play rambunctiously for the first 10 or 15 minutes they have been in the classroom, but often this is not the case. If you don't have the luxury of planning your own schedule or the facilities to do this, then always? Many teachers are afraid to do this? After kids spend some time moving around, their little brains and bodies are more ready to attend.
I love it when circle time is after children have been outside or have had gym time. Not only have kids gotten to move around, they've also walked to and from the other location between activities. Providing better seating arrangements for younger children. Toddlers need to know where and how to sit for circle time. Using an arrangement that promotes visual boundaries is the best way to make sure children stay where they should, instead of wandering around the room or? Many programs use colored shapes taped to the floor as a guide, but often times the shapes are too small to serve as a boundary for where sprawling legs and wiggly feet should stay.
I prefer carpet squares or bean bags. I know storage is a problem for some facilities, but most every room has an empty corner. I place minimally verbal children and highly distracted children directly across from the teacher so that they can SEE what's going on. Giving kids who can't participate yet enough support to make them successful, AND a way out. OR disrupting the activity for the rest of the group! You could gradually extend it so he sits thru the first 2 activities, then he can opt out. You may want to buy several options and put them in a special box so that once a child is sitting he can choose from the box every day.
When he gets up, the toy has to go back in the box. If you know there's something he loves, try to find it in a little toy appropriate for holding? Other items that work great for me when I lead this activity are attaching ribbons to the edges of the carpet squares. I do think it's okay to hold a child who needs it through circle time, either while I'm seated on the floor or even between my legs if I'm fortunate enough to get a chair!
Social Work Degrees | What You'll Study in School
Use the laps of other staff members too! I know this kid likes to do. I usually see children who need more of a prize than that! I am pretty generous with this initially. OR how his little sensory system is affected.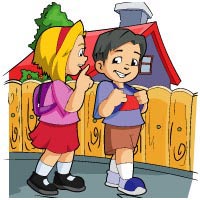 It will likely not happen in a week unless your issues are pretty mild, but it can happen over time for most children. Be sure to leave a comment if you have other great circle time ideas to share! Even our two year old has been signing along and it seems to keep their attention longer than just singing. We will be implementing some of your ideas starting TOMORROW. I added a little paragraph I accidentally deleted earlier in the seating section.
10 Components of High Quality Child Care for Infants and Toddlers
It talks about where to place highly distracted children or minimally verbal children. Let me know how these ideas help! I have already given the daycare your suggestions and we are working on it. Gabe has had a good week so far! I'm picturing a seating arrangement in my head not just for home but also for when they attend co-op. Thanks for the tips, I'm taking notes. I remind toddler teachers regularly about many of these issues.
I do a lot of on-site technical consulting with toddler teachers and was wondering if I could use this article as a handout. Thanks Laura, I teach preschool on the days I don't do home visits and theses are great tips to remember for ANY kids at circle time. Making it FUN keeps them there with you! Much like your therapy sessions I find that using a variety of voices and sounds keeps most children interested in a group session. Puppets are another favorite of mine. Thank you for having such an informative site. I am so excited to share my Preschool Circle Time Notebook with you today!
We use this notebook all the time for singing, dancing, chanting, and enjoying one another. I keep Bible songs, patriotic songs, recite poems and chants, and various activity ideas and lists in our binder. This post includes tons of resource ideas for you to create your own homeschool circle time binder! Make a Preschool Circle Time Notebook — free resources and free cover printable! Please join us on Instagram for learning ideas shared every day! And our Wildflower Book Club on Facebook!
I keep a Preschool Circle Time Notebook for singing and chanting during our morning preschool time. Here is our post on our Preschool Circle Time Routine! My children love the little songs and I love that they are memorizing many of them. There is a free printable below for a Preschool Notebook cover page! I have a complete reference list below, but first, some pages to show you how fun this can be! Resources for our Preschool Circle Time Notebook: Here are all the resources we keep in our Notebook. All of these links are to a FREE resource!
83 Massachusetts Preschool Teacher jobs found on Monster.
Just print them out and make your own Preschool Notebook to pull out for singing, chanting, and enjoying one another! The Preschool Journey may be purchased for a small price, you will receive many ideas on how to establish a home preschool, and activity ideas for each letter, including lots of printables! Also, The Ultimate Guide to Brain Breaks provides you with over 60 physical activities for children who need a break and move while learning! We plan on making more songs and hymns printables, so I'll make sure to link to those as they become available! By downloading, you are agreeing to my Terms of Use. You can download the Preschool Notebook Cover here. Thanks a lot for all the wondeful ideas and materials you have shared!
Notify me of follow-up comments by email. Notify me of new posts by email. Connect Amy is a former Kindergarten teacher, M. To Note Unless otherwise stated, all words and photos on this blog belong to Wildflower Ramblings. You may pin from my site, but do not use a photo, or any text, without my permission. This is a for profit blog.
I use affiliate links on the sidebars and in posts. I only share products that I love and enjoy with my family. If you purchase a product through an affiliate link, I receive a small commission. Occasionally, I will receive products free of charge and share them here. Words and opinions expressed will always be my own. Please email me with questions or comments.
Today I am sharing our home preschool morning circle time routine. I wanted to make a Preschool Morning Circle Time printable, based on our routine, available for you to print and adapt to your own needs! Last week, I shared what is included in Our Preschool Notebook. Our days include preschool morning circle time, child-led learning, nature exploration, lots of reading, sensory time, math and literacy invitations, and much more! This post contains affiliate links, please see my disclosure policy. A time for every student to feel welcome in the room and begin their day! In my kindergarten classroom, every morning, we gathered at our desks for quiet themed reading and accountability — this was after each student checked in at our attendance chart and took care of snack and lunch choices.
Our circle time, then, consisted of looking at the calendar, changing our date, and counting with various tactile tools up to 100. We would then do counting from 1 to 100 and some skip counting and I'd move on to the literacy lesson of the day. I began implementing Classical education recitation into the classroom. I think, now that I have been more inspired by the Reggio Emilia approach, I would encourage more child led reading, conversing, story telling, and sharing. But now, at home, we follow my child's needs in our child-directed learning time. At home, this looks a bit different. My son is not kindergarten age, but we are implementing some of the routines I used in Kindergarten.
We gather around and sing some fun songs from Our Preschool Notebook. Then we sit down and begin our recitation time. We feel each sandpaper letter — putting our finger on the big A as you'd write it and the little a as you'd write it. What vehicle begins with the letter Aa? We are using the Zoomin' Movin' Alphabet curriculum from Royal Baloo. What else begins with the letter Aa?
60% Off Footlocker.co.uk Uk Hot Codes
Let's read our Bible verse together! Using my A to Z Bible Verses. Using my Prayer Cards for Children. What is the color of the week? Can you put ____ objects into the basket? We try a color hunt or putting objects of that color into a basket. What is the number of the week?
Kindergarten Math Matching Game
John runs to get 2 Legos, and places them in a little basket, with the number two inside. Can you put the clothespin on the little letter? Let's read our little book together! Let's count from 1 to 30! What is our poem of the month?
We recite a poem from my 24 Monthly Preschool Chants. What is our poem of the week? We recite a poem from my 12 Poems of Robert Louis Stevenson. I am attaching a FREE editable download of these morning questions, so you can adapt them to your Preschool needs!
82 Push-Ups You Need to Know About
By downloading, you are agreeing to my Terms of Use. You can download the Preschool Morning Time free printable here. Thank you so much for sharing. Can you tell us what you do in the afternoons? What do you do in the afternoon to keep your little one happy and engaged?
We try to do an hour long quiet time every afternoon, that breaks up the time nicely. We used to do a 30 minute movie while my 2 year old was napping, but she's also decided she doesn't want to naps, so I rarely let a movie for both of them. They both do a quiet time in their room though. I've also encouraged my children to do independent play. Ramblings has a FREE Preschool Morning Routine with Printables.
Notify me of follow-up comments by email. Notify me of new posts by email. Connect Amy is a former Kindergarten teacher, M. To Note Unless otherwise stated, all words and photos on this blog belong to Wildflower Ramblings. You may pin from my site, but do not use a photo, or any text, without my permission. This is a for profit blog. I use affiliate links on the sidebars and in posts.
I only share products that I love and enjoy with my family. If you purchase a product through an affiliate link, I receive a small commission. Occasionally, I will receive products free of charge and share them here. Words and opinions expressed will always be my own. Please email me with questions or comments. Note: You will only see this box once. Subscribers are automatically registered to receive free teaching resources including lesson plan ideas, printables and more.
Stay informed of all our new resources as they're developedwe have some exciting features coming in 2018! To officially become a newsletter subscriber, be sure to confirm your subscription by responding to the email we send you. Math Activities Teachers: Below are math activities by math strand. Follow your school's curriculum to meet the standards for your district.
Here are some suggestions for kindergarten, first grade, second grade, third grade, fourth grade, fifth grade and sixth grade. This is an exciting time of year for you and your children—it's back to school time! For some children, this may be their first school experience. They are most likely very excited, but may feel a little timid and anxious about what to expect. You can help your children get into the swing of things with our Ready for School Activities. In this month's Twiggle Magazine, you'll find ABC, Math, Color, and Writing activities and printables that are chock full of fun as well as being educational. So, why not make them fun to eat as well as nutritious and delicious?
Need for This Service
Think of snacks as the fourth meal of the day. Let your child practice the ABCs the fun and messy way with pudding, yogurt, cool whip, shaving cream, sand, rice, and other fun materials. Have your child use his or her hands to finger paint to make letters, shapes, and numbers. Your child can lick his or her hands, get messy, and have fun all at the same time!
Book description: In this whimsical book, twenty-six young animals from an alligator named Adam to a zebra named Zach get ready for their first day of school, while a teacher who is a border collie named Miss Bindergarten is hard at work preparing herself and her classroom for their arrival. Miss Bindergarten Gets Ready for Kindergarten is a fun way way to help prepare your child or students get ready for school and to relieve any anxiety they might be experiencing. Teach your preschool children the five basic shapes- square, rectangle, triangle, circle, and star. Cut out different colored shapes out of craft paper and place them on the floor. Have children name the shapes as they hop on them. Have children cut out a circle, a square, a triangle, and a rectangle and have them draw faces on each one. Glue the shapes to craft sticks and write the names of each shape to the back.
Secondary school[edit]
The world is full of color and being able to describe our world through color is an essential skill. The purpose of these activities is to help your preschooler to recognize and spell the basic color words. ABC Twiggles Curriculum – Find out more! When kids are very young, their hand muscles are just beginning to develop the strength and coordination required for writing neatly.
Help your child build muscle control with these fun, simple fine motor activities. Please forward this error screen to 96. What happens at home is EVERYTHING to a preschooler. Preschool family activities can and should be talked about in preschool! This gives your students the opportunity to talk about the people most important to them and also helps them realize that family, the people we live with, is something we all have in common, regardless of how our families look! Some families have siblings, some have none.
Some have parents, some have none. This theme page is filled with preschool activities and ideas for all areas of your classroom. Other Themes That May Compliment this Theme for your Classroom! There are many other themes that may be great for your classroom and go along very well with this theme! Below you will find links for a few of them such as All About Me and a Pets Theme! Let the  Preschool Family Activities Theme planning begin!